Description
Two easy steps for a "perfect skin" using Aroma Depot's 100% Natural products!
"When trying natural products, Aroma Depot always recommends trying a small area on your skin first  to make sure you don't develop an allergic reaction."

Wash your face with our 100% Natural African Black Soap.
Follow these steps to use African black soap on your face:
 Wet your face, then grab the soap and work it into a lather in your hands. Massage the soap into your skin in circular motions for 
90 seconds
. For extra exfoliation, use a washcloth or other exfoliating tool before rinsing (optional). Black soap is an excellent deep cleanser, but you want to ease yourself into using it and 
avoid using it daily
. We suggest using it 2-3 times a week at most. Make sure to follow with any 
Aroma Depot's
 moisturizers such as
 African Shea Butter
, 
Cocoa Butter
, 
Kokum Butter
, or 
Mango Butter
.
African Black Soap Ingredients:
Black soap is generally made from locally harvested 
African plants such as plantain, cocoa pods, palm tree leaves, and shea tree bark. 
The ingredients are sun-dried and roasted, which is how it gets its deep color. 
Water and oils such as coconut, palm, and shea butter are then added.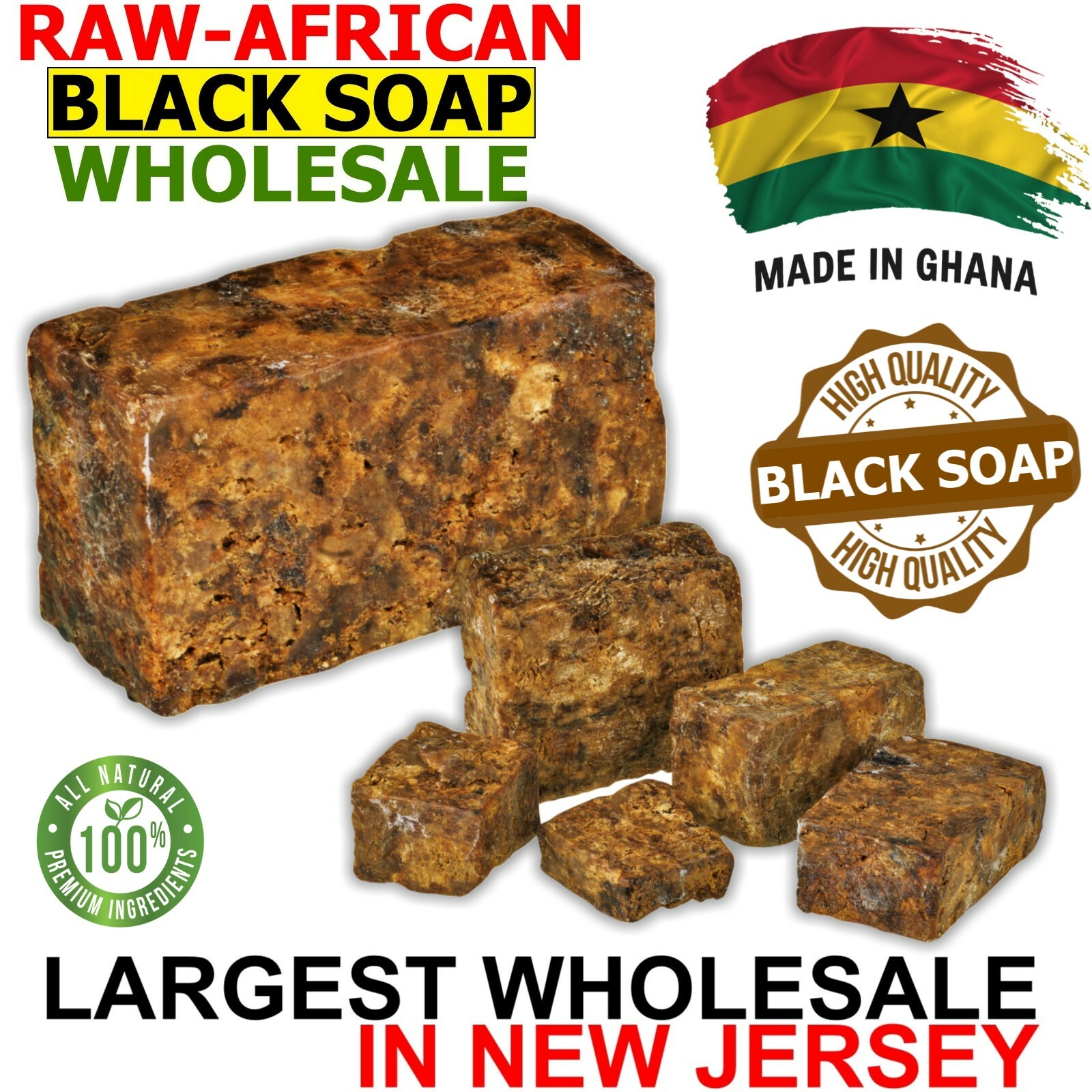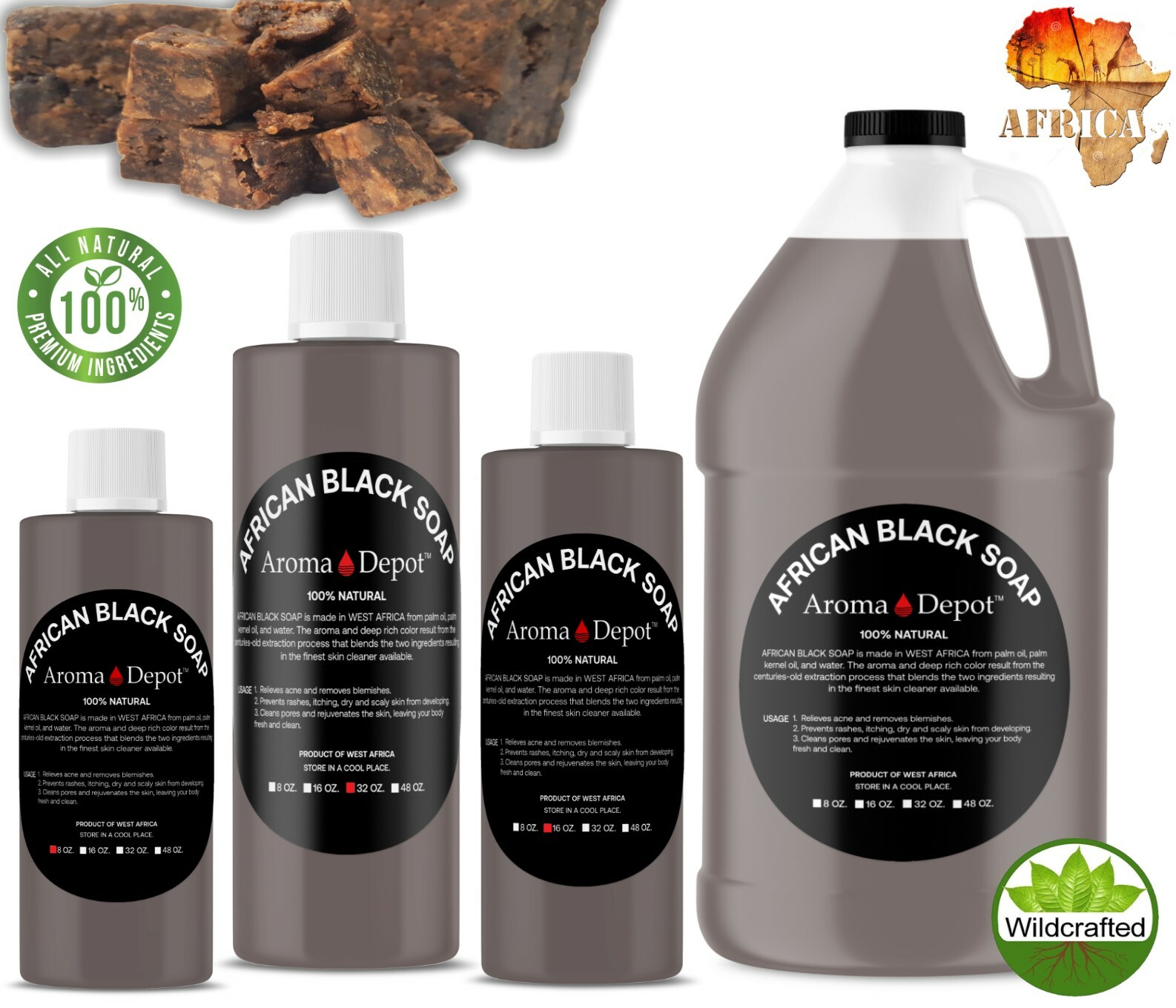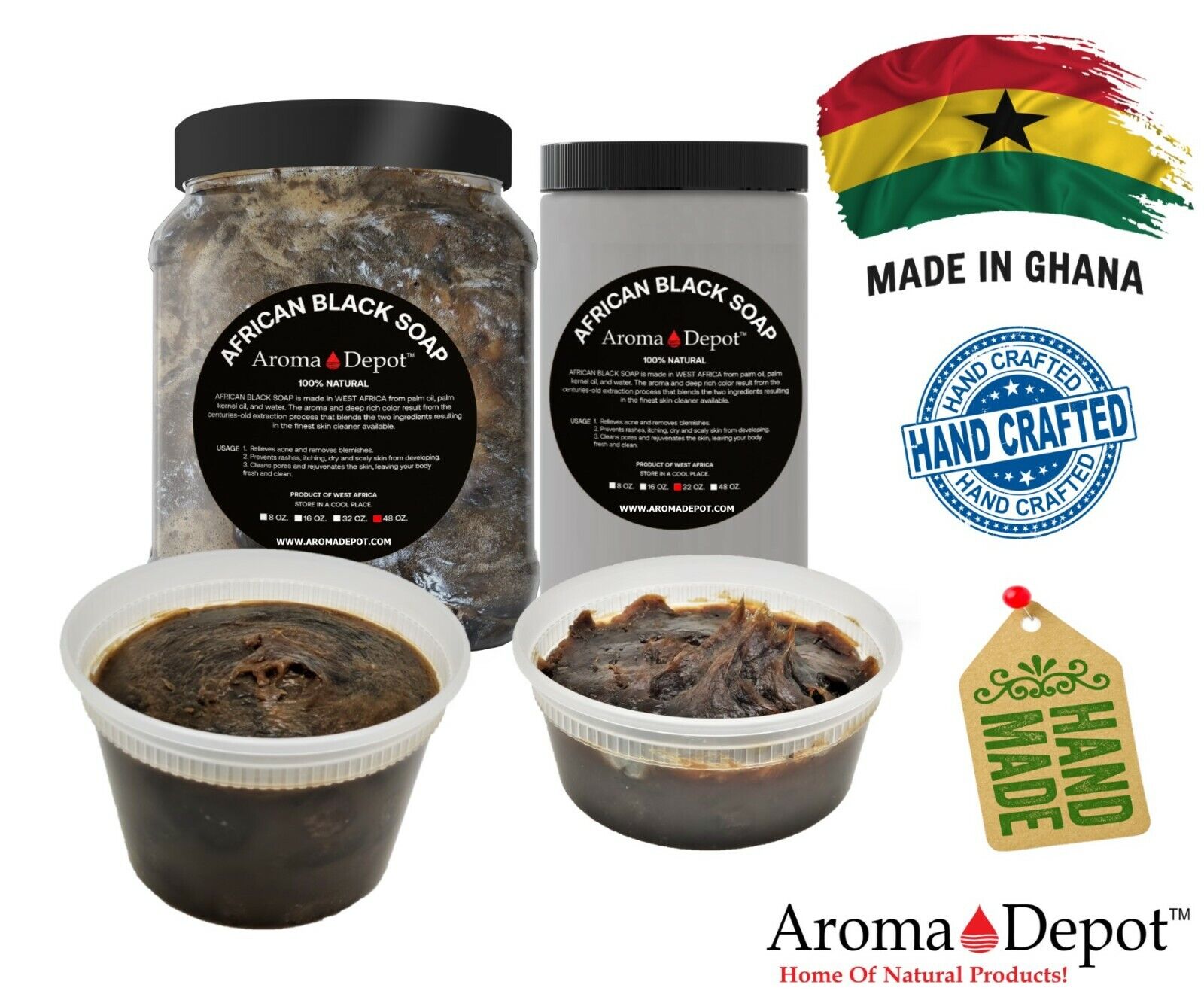 African Black Soap
– African Black Soap helps remove scars caused by acne. 
Acne is not caused by dirt, but the soap cannot remove acne due to the release of excessive oils within the skin. 
The use of African black soap helps to remove scars caused due to acne. 
Suitable for all skin types.
Apply any butter of your choice to your skin. 
Cut a small piece of the butter into your palm, then rub it onto your skin as it melts. The melted butter will immediately glide on like body oil, and it will absorb into the skin within minutes. Natural butters can be used on your hair.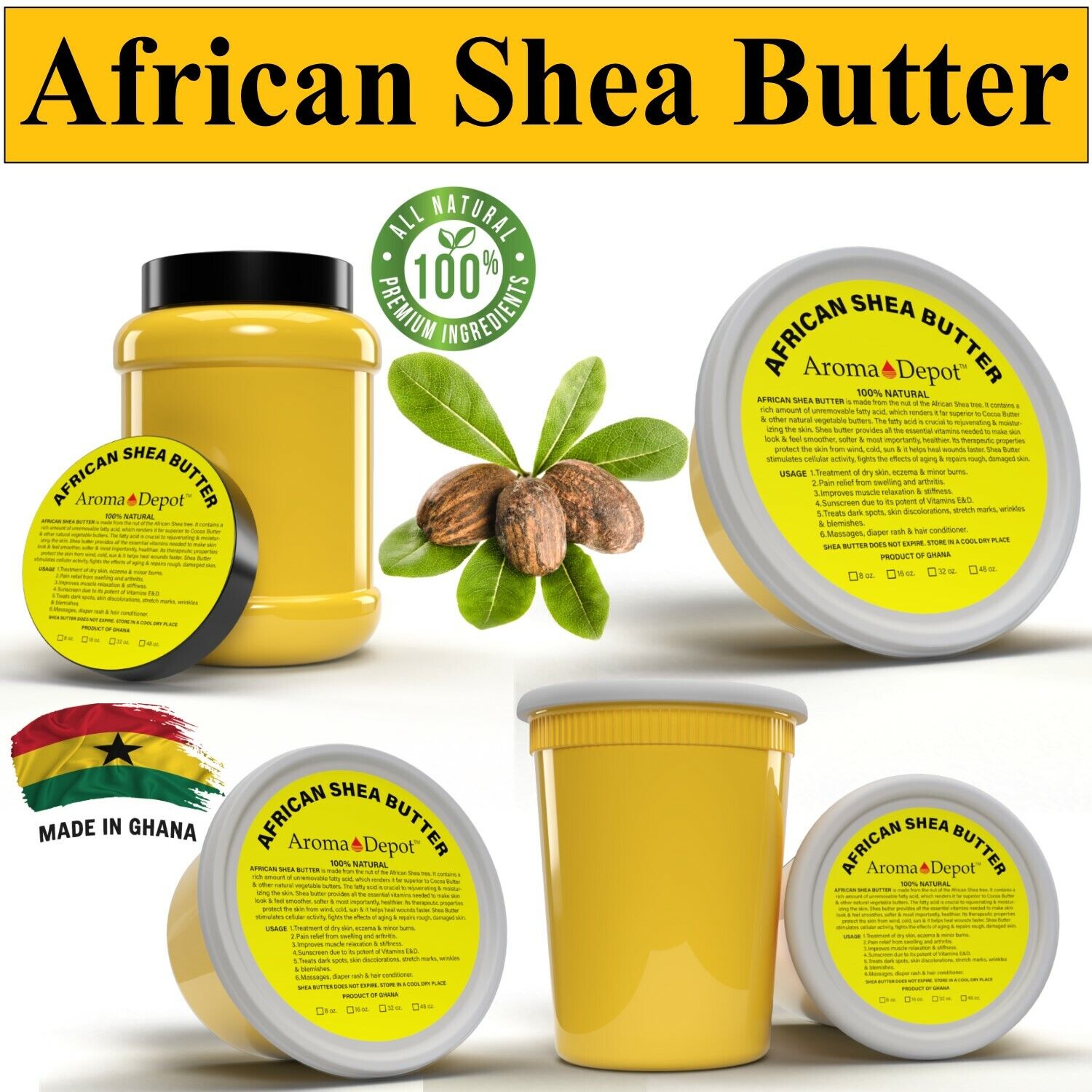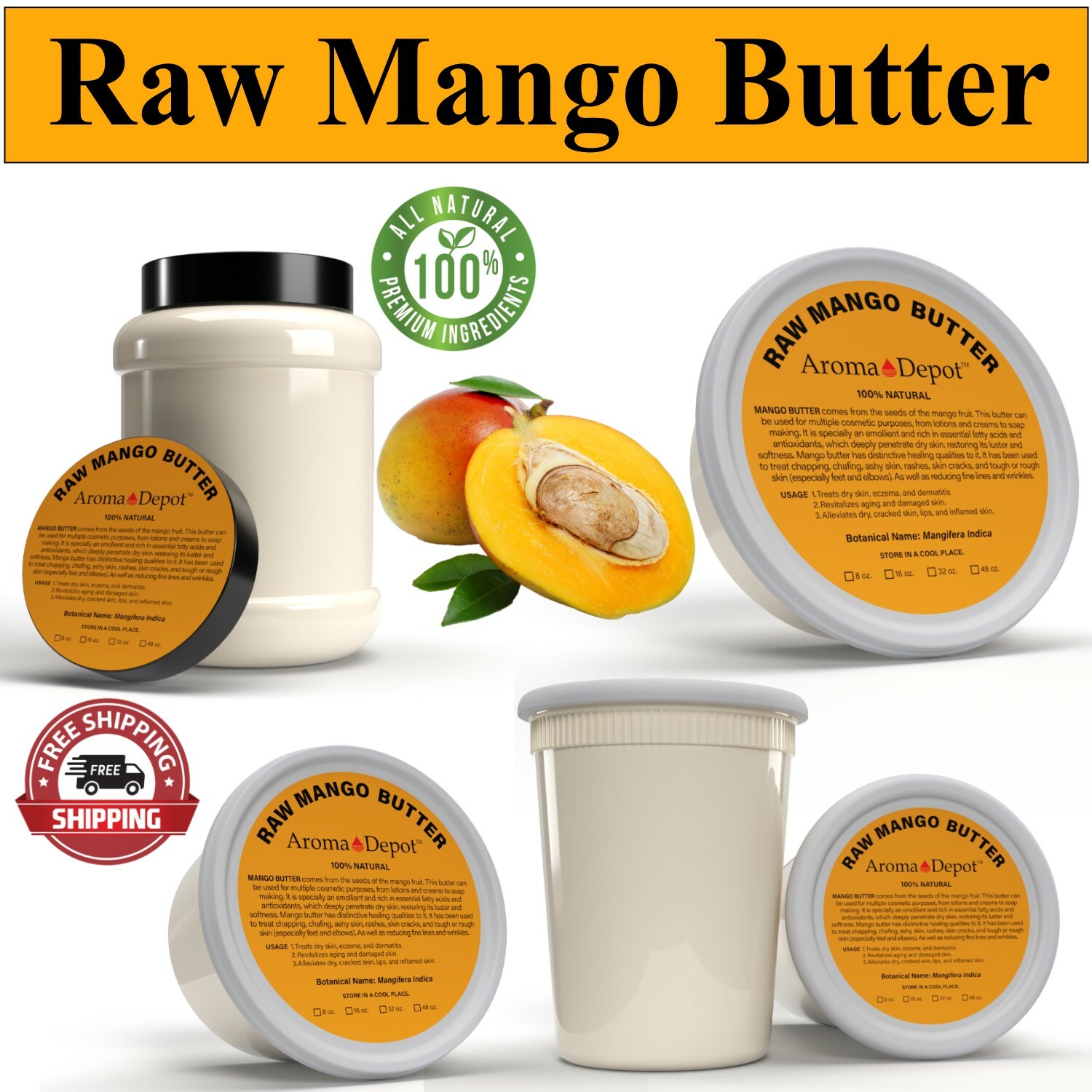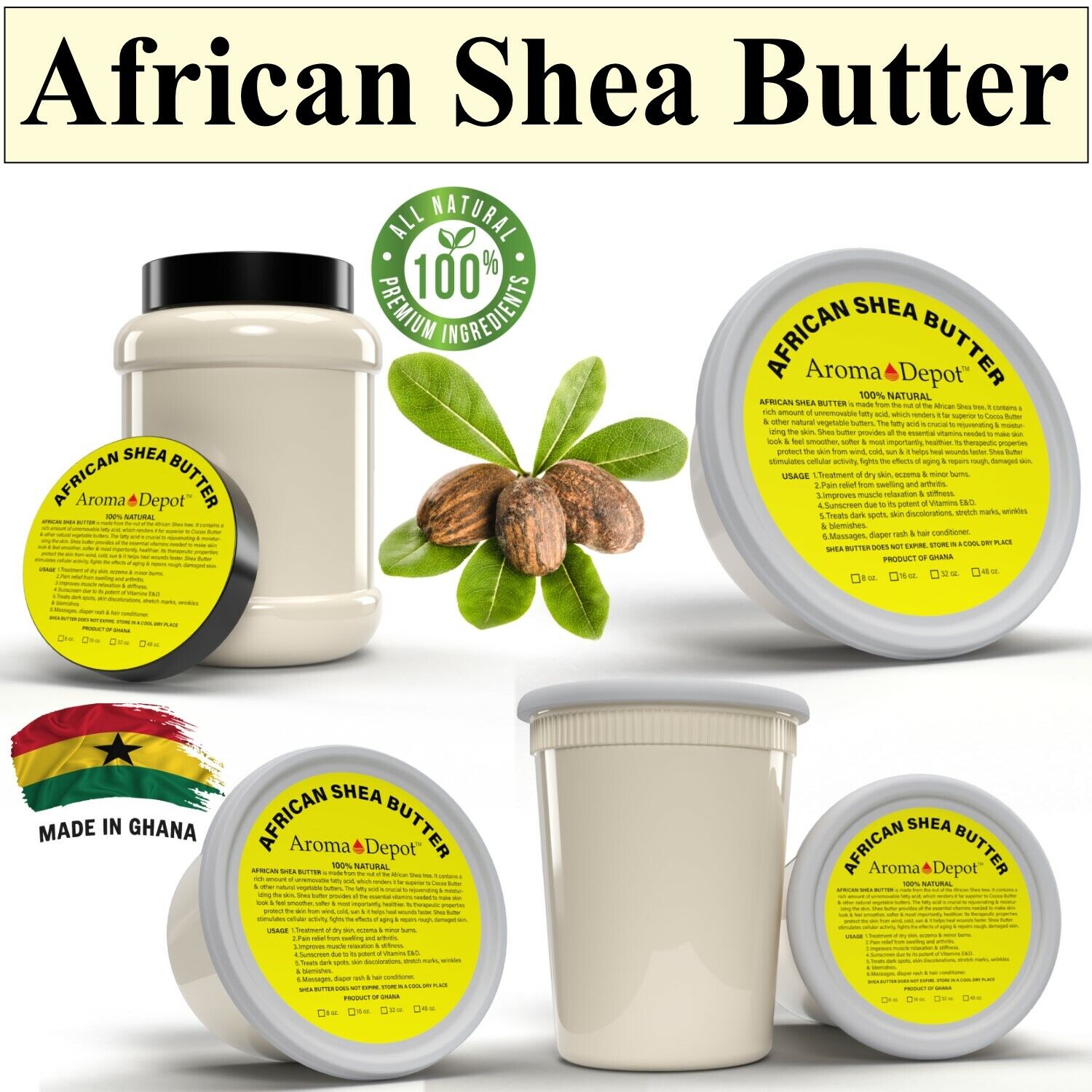 Shea butter "Raw"
 – African Shea Butter contains essential fatty acids & vitamins A, D, E, & F that provide antioxidants & assist with UV Ray Protection.* Imported from West African Country of Ghana * Then packaged in a super Quality Controlled Facility! * Soft, Clean, Pure, & Ivory / Tan Colored – Raw Organic Unrefined & Virgin (Used this way in Africa for centuries!) * The Best packaging On The Market – Always with Added UV Protection. Use as a Daily skin moisturizer / Face and Body / Dry skin relief / Dry scalp Blemishes and wrinkles / Sunburn / Soften tough skin on feet (especially heels)Stretch mark prevention during pregnancy / Eczema / Reduce blemishes and scarring. 
Cocoa Butter "Raw" – Cocoa Butter, also called Cacao Butter, is the cream-colored fat extracted from cacao seeds (cocoa beans) and is used to add flavor, scent, and smoothness to chocolate, cosmetics, tanning oil, soap, and a multitude of topical lotions and creams. Cocoa Butter has been called the ultimate moisturizer and has been used to keep skin soft and supple for centuries.
Ingredients: 100% Unrefined  Virgin Cocoa Butter.
COCOA BUTTER IS A HARD BUTTER
Mango Butter
– Our Mango Butter is expeller-pressed from the mango seed and further filtered to remove any fruit plant matter. It is soft but solid at room temperature, and slightly grainy in texture, but melts on contact with the skin. Mango Butter has been used by the indigenous people of the forest regions of southeast Asia for centuries. It is rich in antioxidants and emollients as well as Vitamins A and E, and it can be used to soften and moisturize rough dry skin. Its natural properties are useful for treating the appearance of wrinkles.
Kokum Butter is naturally produced from the seeds of the kokum tree's ( Garcinia Indica ) fruit.  Commonly used in place of Cocoa Butter as an ingredient for several different cosmetics.
The density of this butter holds ingredients together to create a better and stiffer product.
Kokum butter is known for its smooth, dense texture suitable for cosmetic and toiletry applications.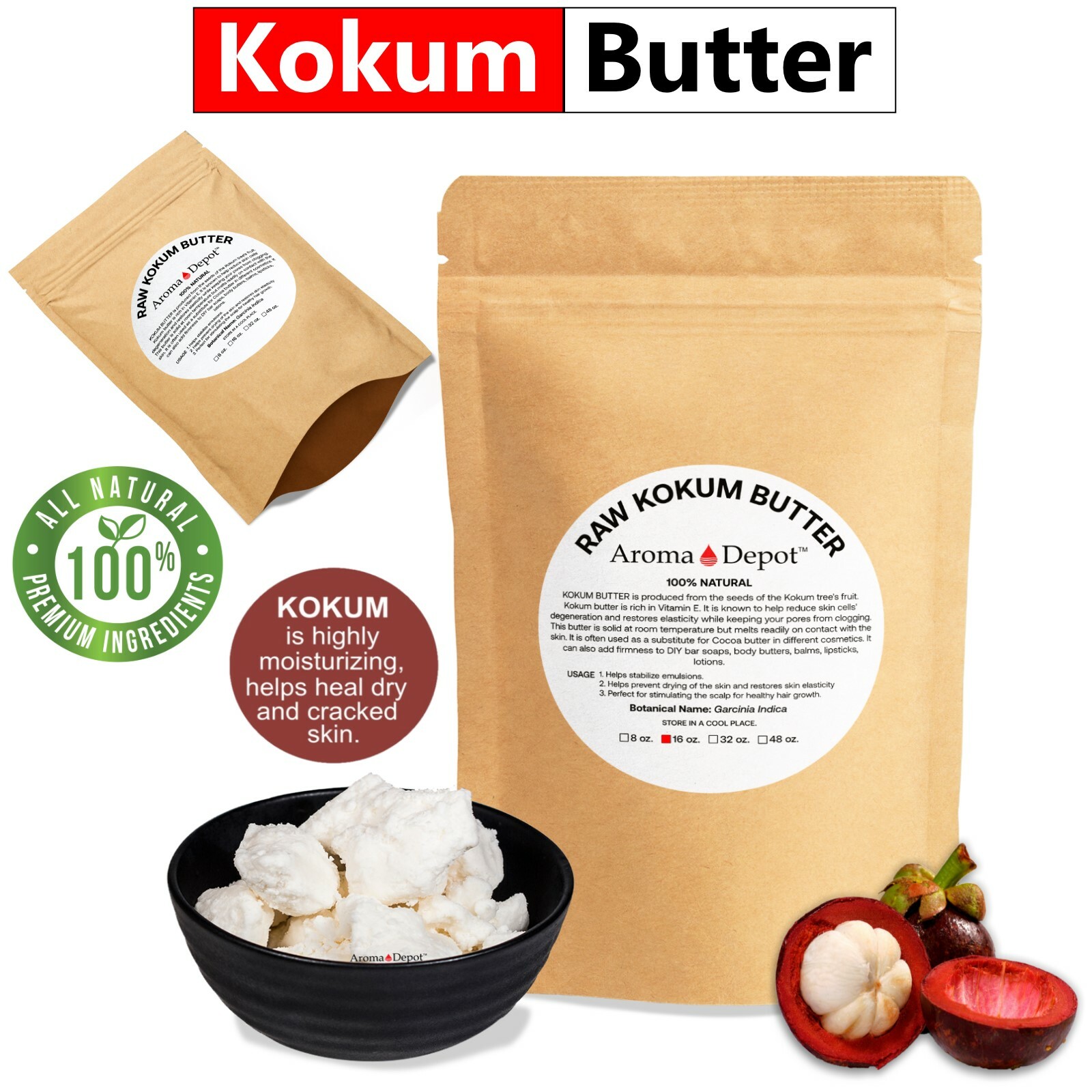 Raw Kokum Butter 
"CHUNKS"
1 lbs. / 16 oz.
Packaged In a Food Grade Kraft  Stand Up Pouch
Please note:  Kokum butter by nature is a dry and flaky butter.
This dry and flaky appearance causes many to think that the butter has gone bad, but this is a natural characteristic of Kokum butter.
THIS BUTTER SUITABLE FOR COSMETIC PURPOSES
  If the butter gets stuck on the bag, please leave it in a refrigerator till the butter gets chilled and becomes firm & solidified.
In this way, you can get the butter out of the bag nice and clean.
Botanical Name: Garcinia indica
Kokum butter is naturally produced from the seeds of the kokum tree's ( Garcinia indica ) fruit.
It is commonly used in place of Cocoa Butter as an ingredient for several different cosmetics.
The density of this butter holds ingredients together to create a better and stiffer product.
Kokum butter is known for its smooth, dense texture suitable for cosmetic and toiletry applications.
Some of the traditionally known benefits of kokum butter are:
* Promotes skin elasticity
*Helps prevents drying of the skin & restores damaged skin
* Helps regenerates skin cells & reduces degeneration of skin cells
*Non-pore clogging ( non-comedogenic )
* Helps heal ulcers, heal fissures of the lips, hands, and soles of feet
* Helps stabilize emulsions
* High oxidative stability
* Ingredient for stiffening DIY soaps and creams
* Great for Stimulating the scalp for healthy hair growth
Suggested Uses: 
In cosmetics, body butter, conditioners, make-up foundations, lipsticks, moisturizers,
hair care products, toiletries & pharmaceutical industry as creams,
skin tonic, lotion, acne products, balms, shaving creams & bar soaps.
Use from 3% to 100%
Recommended Usage Percentage:
Lotions & Creams: 1-3%
Balms: 5-100%
Bar Soaps: 2-5%
Hair Conditioners: 1-3%
Additional information
| | |
| --- | --- |
| Size | 16 oz. |
| Sun Protection Factor (SPF) | SPF 0 |
| Country/Region of Manufacture | Indonesia |
| Department | Unisex |
| Main Purpose | Cellulite Treatment, Eczema, Firming, Moisturizer, Psoriasis, Redness, Stress Relief, Stretch Mark Treatment |
| Formulation | Butter |
| Product Line | benefit Total Moisture |
| Type | Kokum Butter |
| Features | Alcohol-Free, All Natural Ingredients, Ammonia-Free, Animal Cruelty-Free, Colorant-Free |
| Expiration Date | 12/2023 |
| Color | Off White |
| Active Ingredients | Kokum Butter |
| Body Area | Arms, Decollete, Eyes, Face, Feet, Full Body, Hands, Head, Legs, Lips |
| Volume | 16 oz. |
| Ingredients | Kokum Butter |
| Set Includes | Daily Use, Day Treatment, Massager, Night Treatment |
| Brand | Aroma Depot |
| Scent | Unscented |
| Skin Type | All Skin Types |