Description
Two easy steps for a "perfect skin" using Aroma Depot's 100% Natural products!
"When trying natural products, Aroma Depot always recommend trying a small area on your skin first to make sure you don't develop an allergic reaction."

#1 Step.
Wash your face with our 100% Natural African Black Soap.
Follow these steps to use African black soap on your face:
Wet your face, then grab the soap and work it into a lather in your hands. Massage the soap into your skin in circular motions for
90 seconds
. For extra exfoliation, use a washcloth or other exfoliating tool before rinsing (optional). Black soap is an excellent deep cleanser, but you want to ease yourself into using it and
avoid using it daily
. We suggest using it 2-3 times a week at most. Make sure to follow with any
Aroma Depot's
moisturizers such as
African Shea Butter
,
Cocoa Butter
,
Kokum Butter
, or
Mango Butter
.
African Black Soap Ingredients:
Black soap is generally made from locally harvested
African plants such as plantain, cocoa pods, palm tree leaves, and shea tree bark.
The ingredients are sun-dried and roasted, which is how it gets its deep color.
Water and oils such as coconut, palm, and shea butter are then added.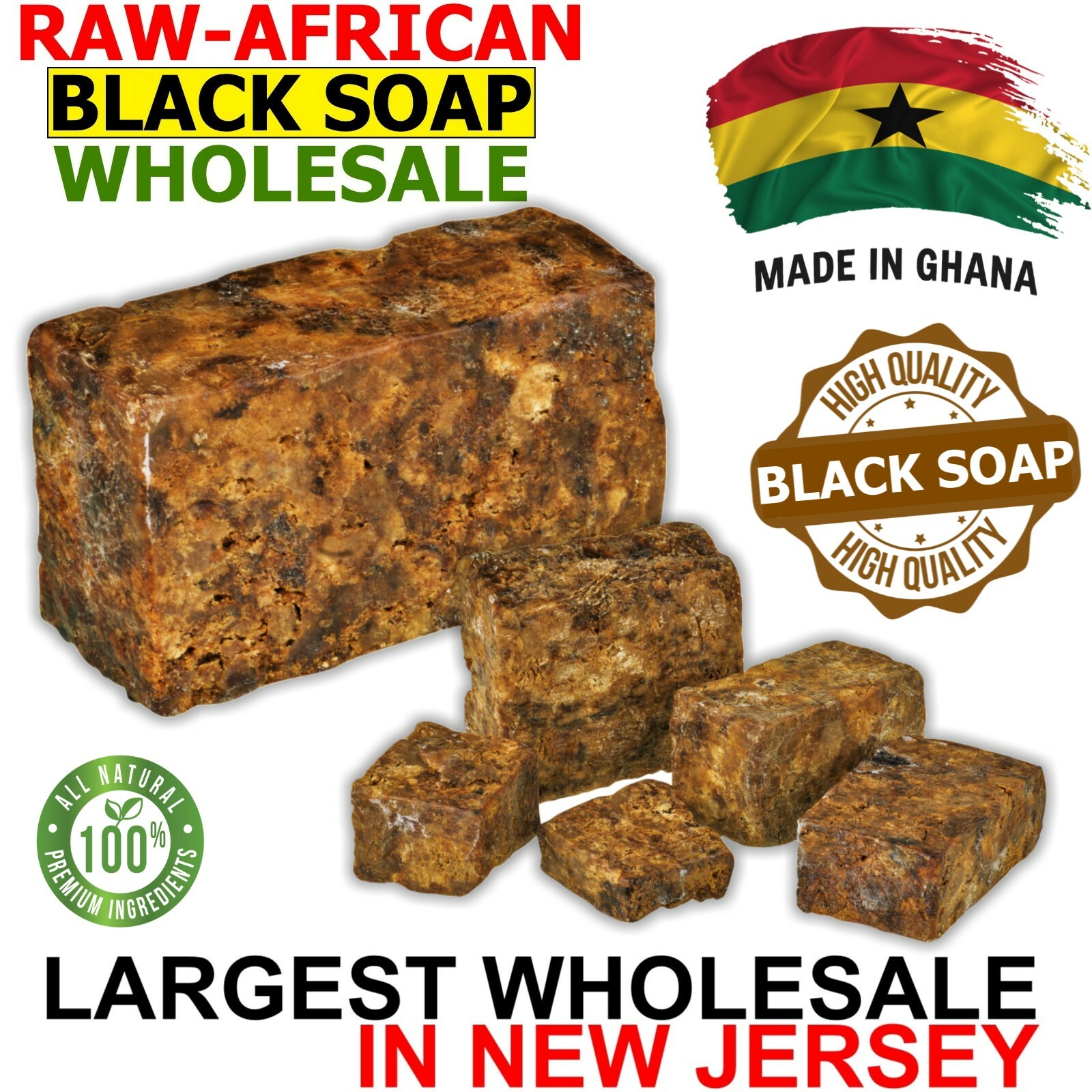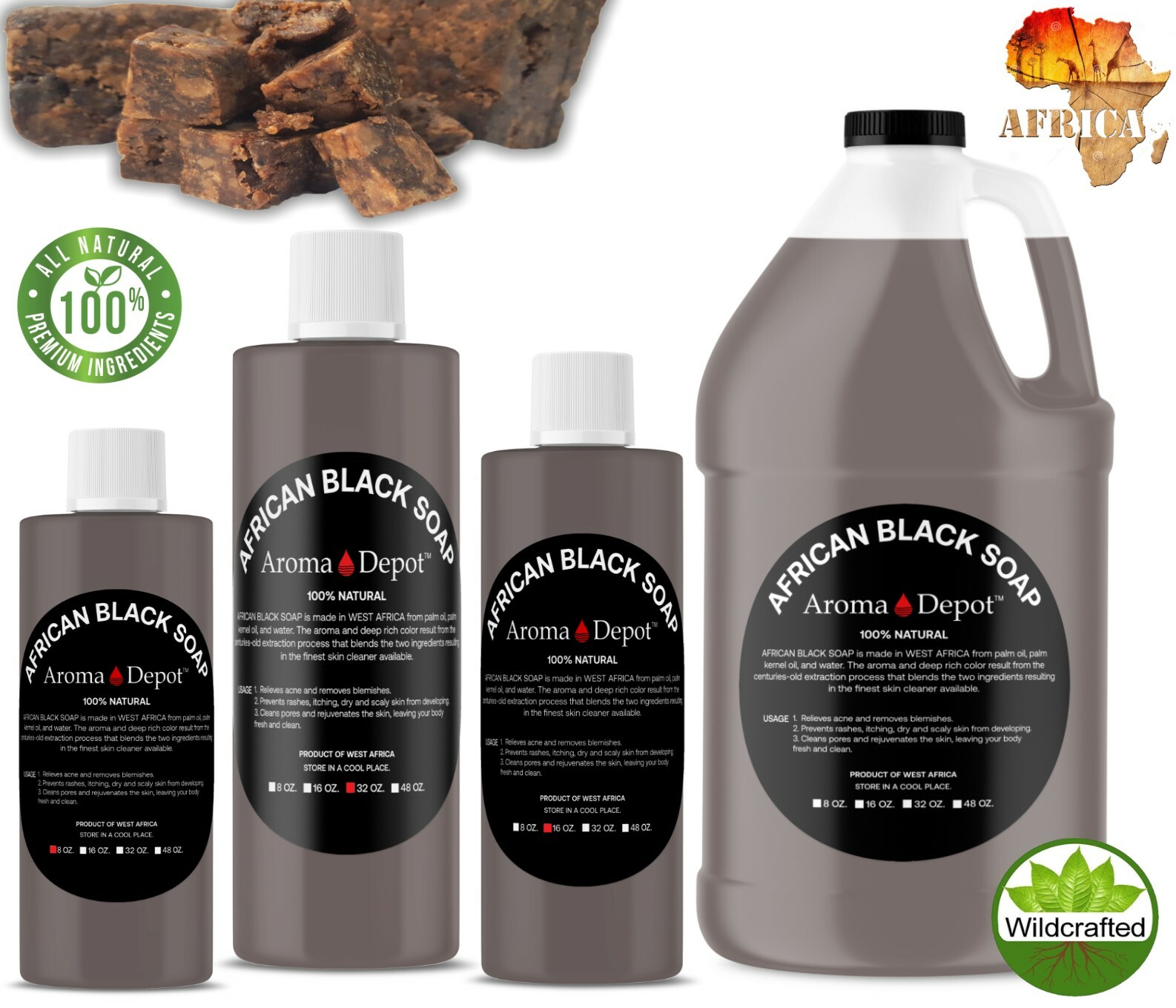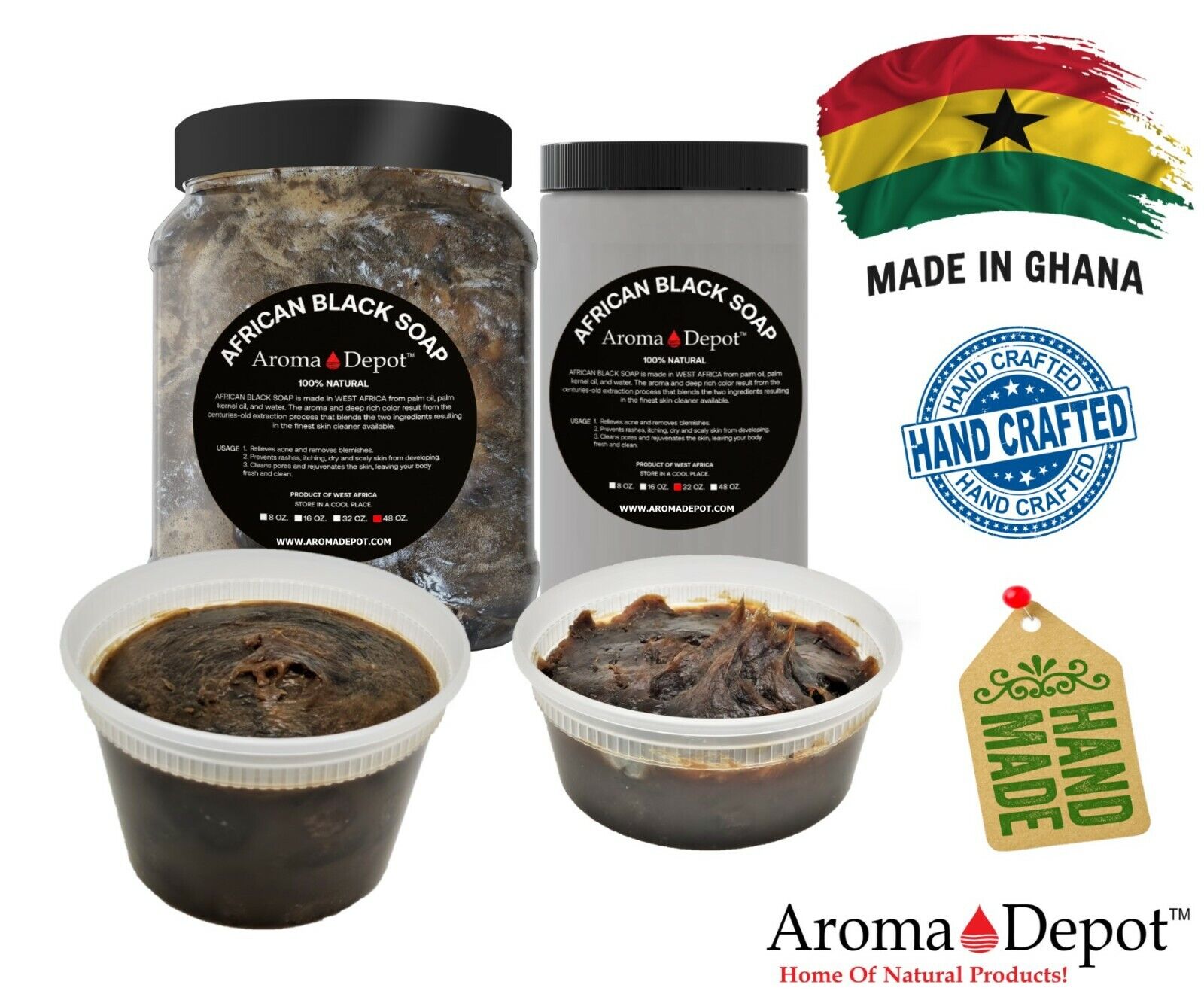 African Black Soap – African Black Soap helps remove scars caused by acne.
Acne is not caused by dirt, but the soap cannot remove acne due to the release of excessive oils within the skin.
The use of African black soap helps to remove scars caused due to acne.
Suitable for all skin types.
Apply any butter of your choice to your skin.
Cut a small piece of the butter into your palm, then rub it onto your skin as it melts. The melted butter will immediately glide on like body oil, and it will absorb into the skin within minutes. Natural butters can be used on your hair.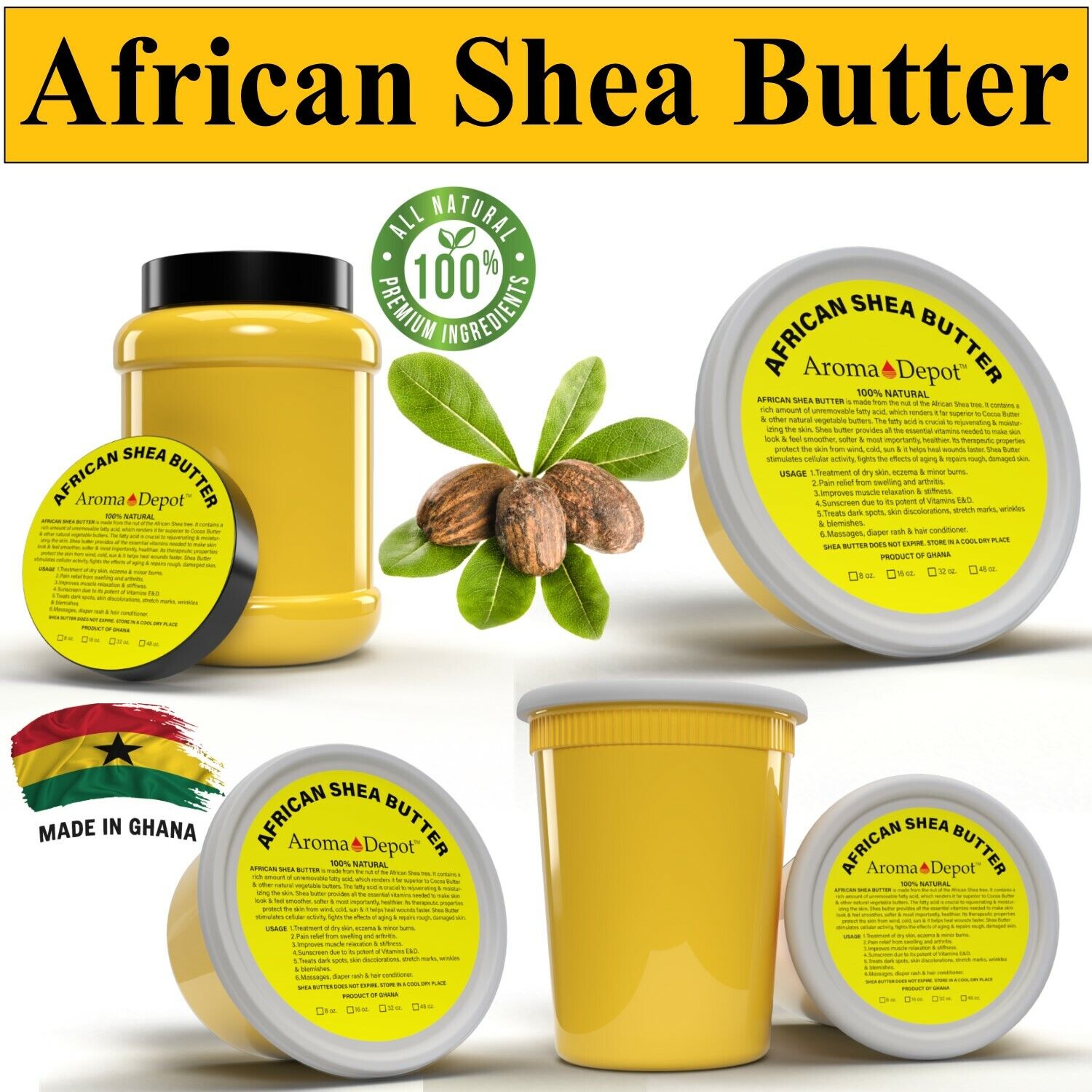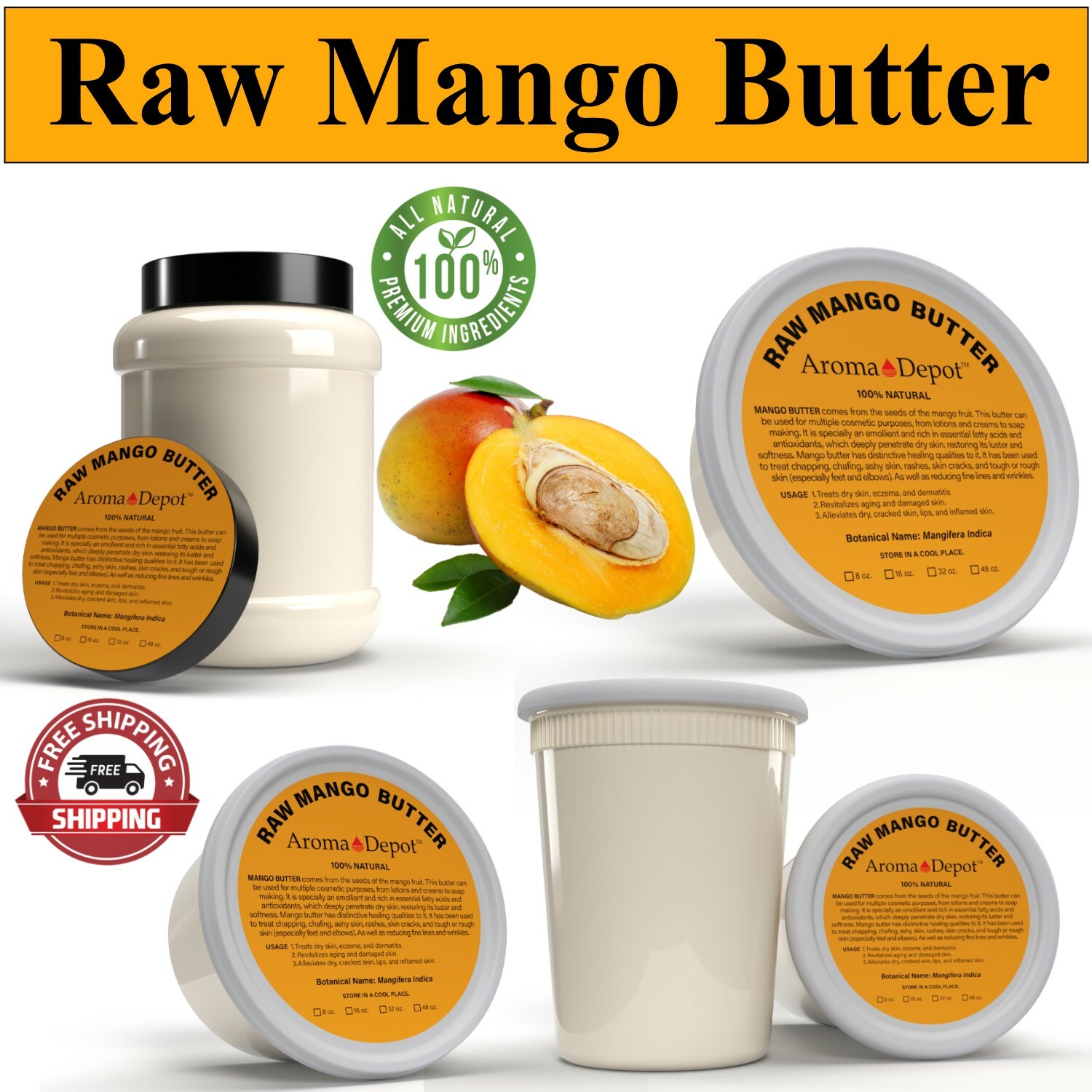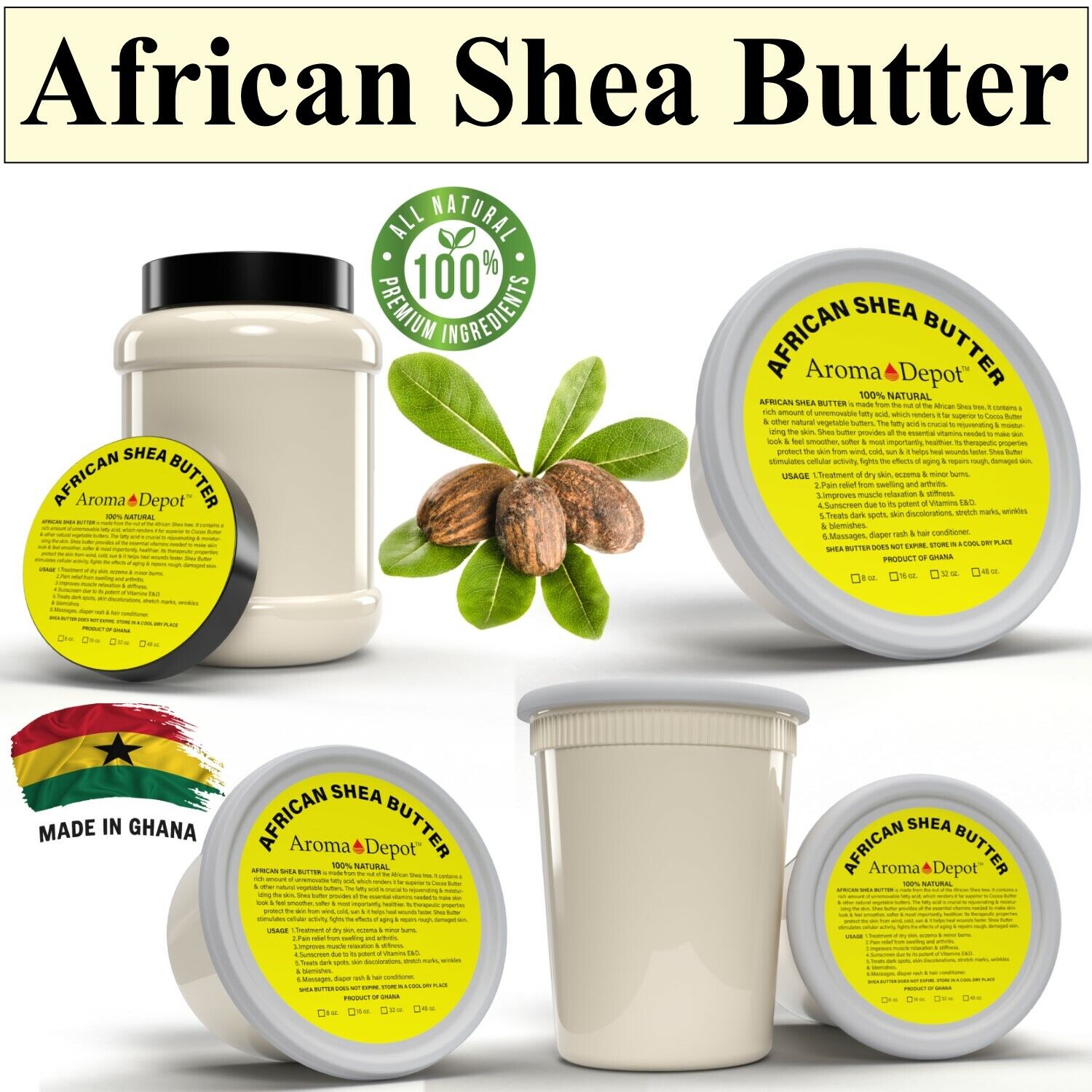 Shea butter "Raw"
– African Shea Butter contains essential fatty acids & vitamins A, D, E, & F that provide antioxidants & assist with UV Ray Protection.* Imported from West African Country of Ghana * Then packaged in a super Quality Controlled Facility! * Soft, Clean, Pure, & Ivory / Tan Colored – Raw Organic Unrefined & Virgin (Used this way in Africa for centuries!) * The Best packaging On The Market – Always with Added UV Protection. Use as a Daily skin moisturizer / Face and Body / Dry skin relief / Dry scalp Blemishes and wrinkles / Sunburn / Soften tough skin on feet (especially heels)Stretch mark prevention during pregnancy / Eczema / Reduce blemishes and scarring.
Cocoa Butter "Raw" – Cocoa Butter, also called Cacao Butter, is the cream-colored fat extracted from cacao seeds (cocoa beans) and is used to add flavor, scent, and smoothness to chocolate, cosmetics, tanning oil, soap, and a multitude of topical lotions and creams. Cocoa Butter has been called the ultimate moisturizer and has been used to keep skin soft and supple for centuries..
Ingredients: 100% Unrefined Virgin Cocoa Butter.
COCOA BUTTER IS A HARD BUTTER
Mango Butter
– Our Mango Butter is expeller pressed from the mango seed and further filtered to remove any fruit plant matter. It is soft but solid at room temperature, and slightly grainy in texture, but melts on contact with the skin. Mango Butter has been used by the indigenous people of the forest regions of southeast Asia for centuries. It is rich in antioxidants and emollients as well as Vitamins A and E, and it can be used to soften and moisturize rough dry skin. Its natural properties are useful for treating the appearance of wrinkles.
Kokum Butter is a natural produced from the seeds of kokum tree's ( Garcinia Indica ) fruit. Commonly used in place of Cocoa Butter as an ingredient for several different cosmetics.
The density of this butter holds ingredients together to create a better and stiffer product.
Kokum butter is known for its smooth, dense texture suitable for cosmetic and toiletry application.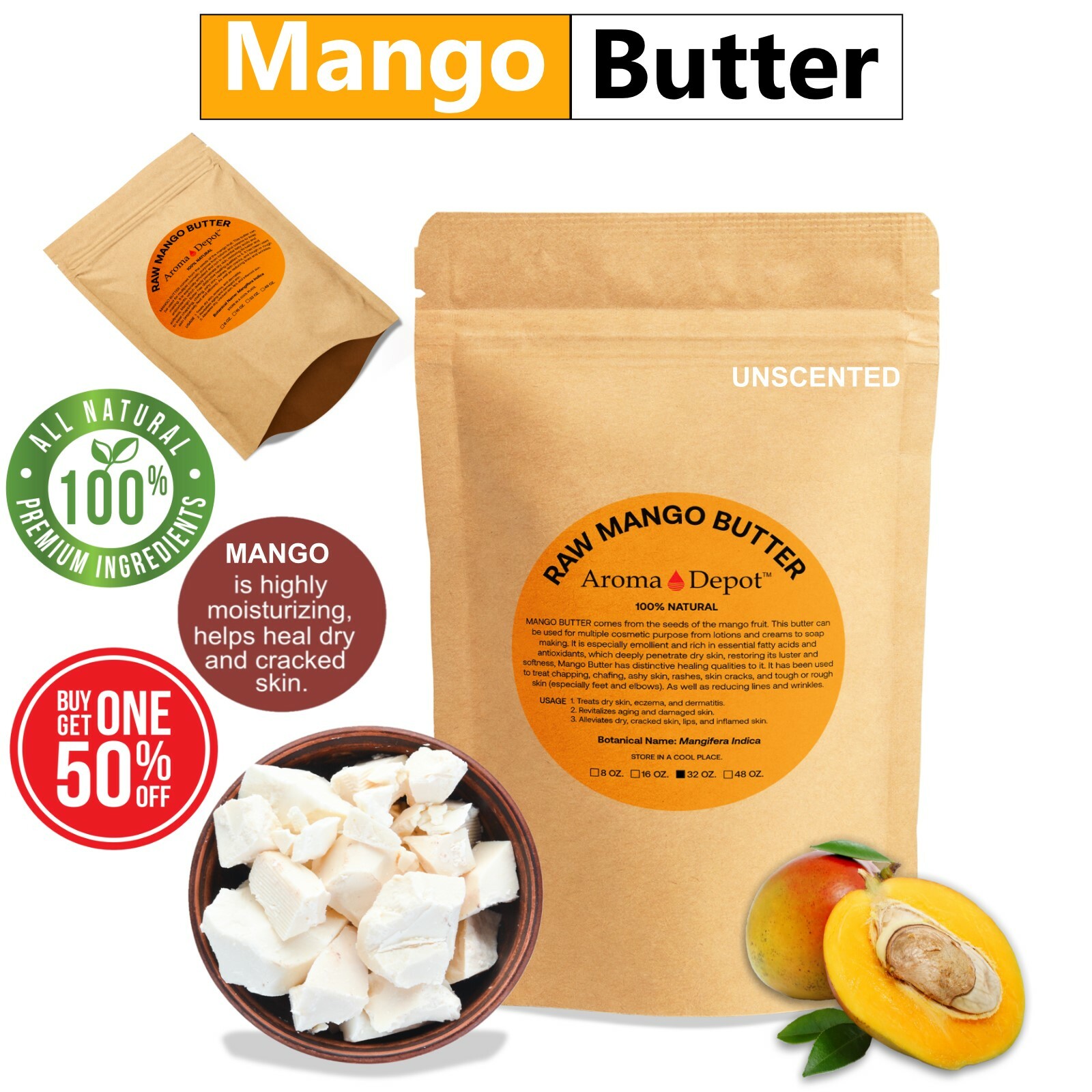 Raw Mango Butter "CHUNKS"
Buy 1, Get 1 – 50%OFF
Raw Mango Butter
HIGHEST QUALITY
Grade A
COLD PRESSED
Botanical Name: Mangifera indica
Cut into small and large chunks.
ALL BUTTERS melt during transit in the summertime.
THIS BUTTER SUITABLE FOR
COSMETIC PURPOSE
If the butter gets stuck on the bag, please leave it in a refrigerator till the butter gets chilled and become firm & solidified.
In this way you can get the butter out from the bag nice and clean.
Packaged in a Food-Grade heat sealed Kraft Pouch.
What is Mango Butter?
As with most natural fruits, the seed has just as many benefits as the flesh. The mango seed can be formed into a powder, oil, or butter, depending on how it's processed. Typically, the butter is cold-pressed from the seeds and is said to be similar to cocoa and shea butter, in that it's moisturizing without being greasy.
The mango comes from a tropical fruit tree (the Mangifera) native to South Asia. However, the trees are cultivated in many locations for their fruits, including India, China, Brazil, and Mexico. They grow up to be 130 feet tall with evergreen leaves and small white flowers. The fruit ripens in the summertime and is usually a variety of white-yellow-orange colors with a single flat pit that houses a single seed.
Beyond being a fantastic skincare ingredient, mango butter is sometimes used in cooking as an alternative to regular butter and baking recipes.
Mango benefits skin
Promotes collagen production: Because it's rich in vitamin C, mango butter can help encourage collagen production, which helps give skin its shape and strength. Adequate collagen promotes a firmer appearance on the skin, reducing the look of sagging and bagging.
Natural source of vitamin A: Vitamin A is a natural ingredient that encourages healthy cell production and turnover. Since mango butter is a natural source of vitamin A, it stimulates the cells responsible for keeping skin firm, reducing fine lines and wrinkles, and increasing skin's overall youthful look.
Fades scars: Stretch marks, acne scars, and other old scars become more pliable and less noticeable when exposed to all the goodies in mango butter—moisturizers, antioxidants, anti-inflammatories, and skin regenerators.
Treats dry skin: Dry patches, flakiness, eczema, and dermatitis flare-ups, and even psoriasis can benefit from daily application of mango butter, which goes to work profoundly moisturizing and repairing damaged skin. Oh, and don't forget your lips—mango butter works great as a lip balm.
Reduces the appearance of fine lines and wrinkles: Mango butter provides a more lasting type of moisturization, which can help prevent the formation of fine lines and creases down the line. It also helps reduce the degeneration of skin cells, preventing that damaging process that leads to wrinkles in the first place.
Protects from sun damage: Remember that ability to protect from radiation that we mentioned above? A great perk with mango butter—when you apply it to your skin, you carry around an extra bit of protection from sun damage. It doesn't mean you shouldn't wear sun protection.
Soothes a sunburn: Yep, you can use it both before and after sun exposure, as mango butter helps soothe and heal sunburned skin.
Calms insect bites and poison ivy: If you got bitten or were exposed to poison ivy on your last outing, reach for your mango butter. Its anti-allergy properties can help calm the itching and stinging so your skin can relax.
Treats minor wounds: If you've got scrapes, cracks, or other minor wounds, mango butter can help them heal faster.
Unlike additional butter like shea butter and cocoa butter, mango butter has a wound-healing quality.
All this, yet mango butter is gentle on the skin and perfectly suitable for sensitive skin. We suggest you give it a try—and don't forget that your eyes will love it in our anti-aging eye cream!
About Aroma Depot
We are a small business that never sacrifices quality for the price.
We Appreciate every customer, large or small. We will do our best to serve each customer that purchases from us!
Our primary goal is to hear from you how well our products are working out for each valued customer.
All our products are well packed & promptly shipped.
Operation Hours
Monday through Friday from 7 a.m. to 5:30 p.m. eastern time.
We are closed on weekends.
All weekend inquiries answered during our regular business hours.
Feedback and DSRs
Our eBay reputation and customer satisfaction are crucial for us to succeed.
Your feedback is critical to us as on eBay.
If you are happy with your purchase, please leave positive feedback for us.
If you have any problem with your order, please do not leave negative feedback.
We guarantee that your issue will be solved quickly.
Shipping
Orders placed before 2 p.m. Eastern Time will leave the same day. Anything after will go to the next business day.
We ship within two business days of payment, usually the same day.
Standard shipping takes between 3-5 business days.
Expedited shipping takes between 2-3 business days.
We use a selection of shipping such as UPS, FedEx, USPS, etc.
Once the tracking number shows the package delivered
Aroma Depot, Inc. is NOT responsible for any stolen packages.
Once an order is placed, the address cannot be edit.
Make sure that your address on eBay and PayPal is correct before you place an order.
Aroma Depot never gives any guarantee to deliver the items by the estimated delivery times provided by eBay.
Payment Policy
PayPal and another method of payment are accepted.
Immediate payment required after the Winning Bid
Items will be shipped immediately on the same or next business day of receiving full payment.
Shipping Policy
Free Shipping to the United States
International shipping available for those countries that do business with global shipping via eBay
For the most part, all our items are shipped via USPS the same or next business day of receiving full payment.
The tracking number is submitted and provided with every order.
Once the tracking number shows the package delivered
Aroma Depot is NOT responsible for any stolen packages.
Customers can't return opened items.
We must review all returns and issued with an RMA number before you ship the item back.
Never send a return without consulting us as the returned address can be different from the source address.
Communication is the key to solving any problems that may arise during the transaction.
Don't hesitate to contact us by email to complete the transaction as smoothly and as flawlessly as possible.
Please note that it can take up to 7 business days to finalize the return when sending in returns.
We do our best to process as quickly as possible.
Returns Policy
This item is brand new
30 DAY RETURNS are Accepted
20% Restocking Fee
No refund on opened sealed bags
Aroma Depot, Inc. will not accept returns on food-grade items. (NO REFUND)
Buyers MUST take clear and legible pictures of the shipping label, inside and out of the package and items.
Send these requirements to proceed with your return/refund/exchange/claims.
ALL RETURNS MUST BE UNOPENED BOTTLES OR CONTAINERS WITH SEALS INTACT.
Aroma Depot, Inc. will send a free return shipping label for the qualified USA returns.
Your Satisfaction is our #1 priority!
***CONTACT US***
If you're experiencing any issues with your purchase,
we would appreciate the opportunity to make it right.
Please contact us through eBay MESSAGES to allow us to do so before leaving bad feedback.
We strive for excellence in our service & the products we carry.
We love feedback and hope that you will give us a "TOP STAR" rating every time.
If, for any reason, you feel you cannot give us a "TOP STAR."
Could you allow us to do so?
We promise to make it right every time.
Thank you for visiting our eBay Store!
© Aroma Depot, Inc 2021
Additional information
| | |
| --- | --- |
| Size | Regular |
| Active Ingredients | Mango Butter |
| Department | Unisex |
| Main Purpose | Moisturizer, Skin, Hair, Body, Eczema, Acne,, Cellulite Treatment, Eczema, Firming, Moisturizer, Psoriasis, Redness, Stress Relief, Stretch Mark Treatment |
| Formulation | Butter |
| Product Line | benefit Total Moisture |
| Type | Mango Butter |
| Features | Alcohol-Free, All Natural Ingredients, Ammonia-Free, Animal Cruelty-Free, Colorant-Free, Contains Minerals |
| Color | White |
| Country/Region of Manufacture | Indonesia |
| Bundle Listing | Buy 1, Get ONE 50% OFF |
| Body Area | Arms, Decollete, Face, Feet, Full Body, Hands, Head, Legs, Lips |
| Volume | 32 oz. |
| Form | Butter |
| Main Ingredient | 100% Mango Butter |
| Age Group | All Ages |
| Size Type | Regular |
| Ingredients | Mango Butter |
| Brand | Aroma Depot |
| Scent | Unscented Mango, Mango |