Description
Dudu-Osun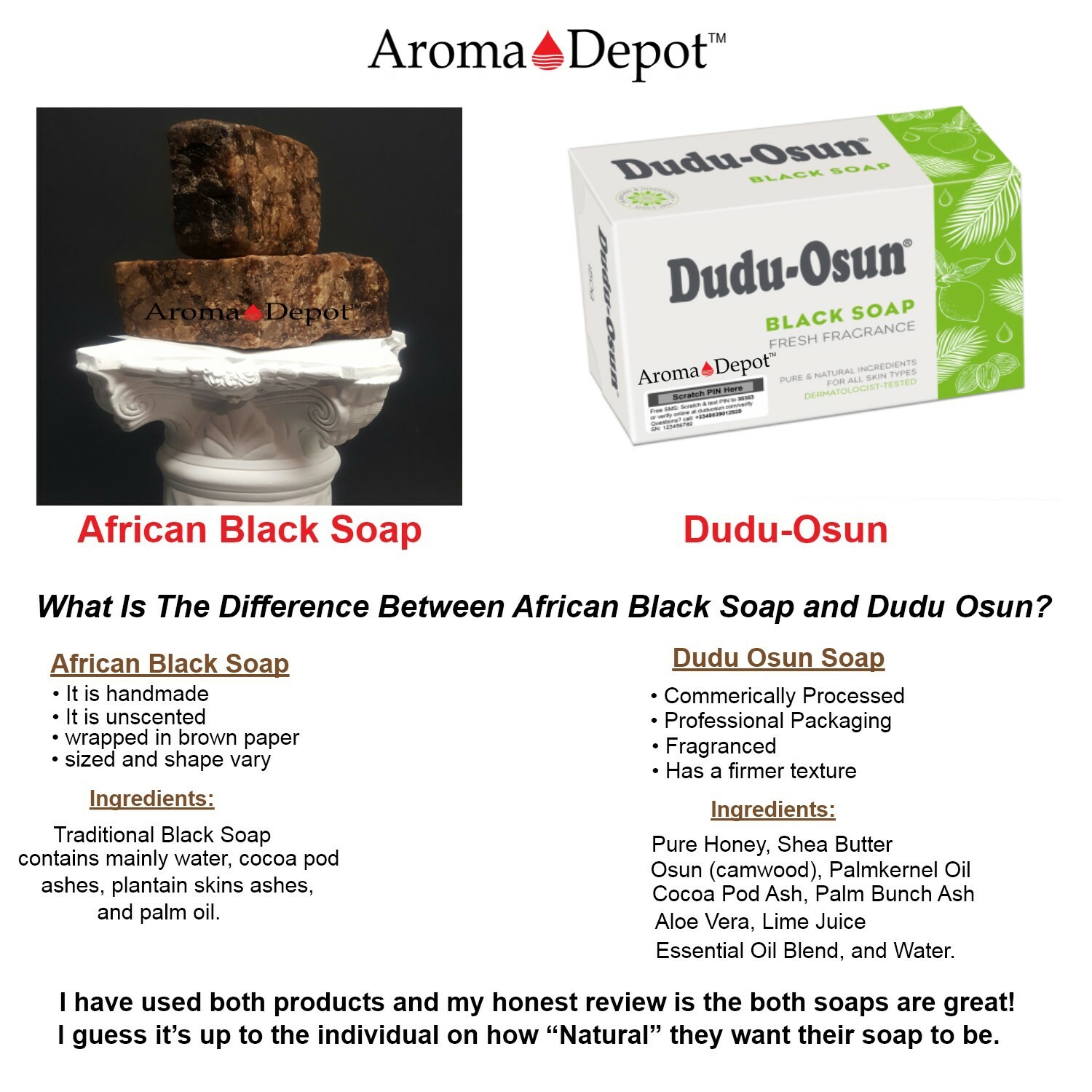 African Black Soap
By Tropical Naturals, Nigeria
Dudu-Osun is an African black soap made from herbs found in the Savannah and tropical rainforest regions of West Africa.
Although the black soap was once only known to people of West African descents.
Dudu-Osun, a Nigerian variant of the soap is among the few brands making for wider acceptance and recognition for this beauty product in the mainstream industry.
Ingredients
Dudu-Osun is made from shea butter, honey, aloe vera, Osun (camwood), palm kernel oil, cocoa pod ash, palm bunch ash, lime juice, lemon juice, water and fragrance.
The soap is known to be a gentle cleanser for hair, scalp and skin.
Camwood, which is a primary ingredient in this locally made herbal soap has been discovered with exfoliating properties.
For years, beauty experts have claimed traditional black soap is good at alleviating skin ailments and even protecting the skin from premature ageing.
The name Dudu Osun is derived from two Yoruba words "osun" (camwood) and "dudu" (black). This translates as "camwood soap", although "osun" can also be translated as "ose" which means soap. This translates as "black soap".
Dudu Osun restores damaged skin and is helpful in healing chronic eczema, acne, freckles, and dark spots.
Can you shower with African black soap?
Directions: Use African Raw Black Soap for showering, bathing, washing your hands, hair, and face. The secret is to use it 2-4 times a day with water as hot as you can tolerate, (optional) and a washcloth or loofah to scrub the area. Rinse, and apply unrefined shea butter or natural/ oil as a moisturizer.
Reactions to African Black Soap
If you break out in a rash or contact dermatitis discontinue use and consult your dermatologist. If you are latex-allergic you could have the latex-fruit syndrome and could have a reaction to the plantain ash in black soap, as well as palm and coconut oil. If you have a chocolate allergy or are sensitive to caffeine, also be aware that there could be a high concentration of cocoa pods, which make the ash, used in the soap.
Before You Toss That Soap
When it s exposed to the air, black soap (Bar or Paste) can develop a thin white-colored film. This is not mold. You might want to cut off a portion of the bar or cut and roll into small balls and place them in a Ziploc bag to make it easier to use daily and keep the white film from developing. If you buy your soap by the pound or in bulk, cut off part of the soap and store the rest in a cool, dry place. Leave it wrapped in plastic and then put in a Ziploc bag.
Additional information
| | |
| --- | --- |
| Amount | 1 Bar, 2 Bars, 3 Bars, 4 Bars, 5 Bars, 6 Bars, 8 Bars, 10 Bars, 12 Bars, 18 Bars, 24 Bars, 30 Bars, 36 Bars, 48 Bars |
| Personalize | No |
| Shape | Oval |
| Country/Region of Manufacture | Nigeria |
| Department | Children |
| Custom Bundle | No |
| Product Line | Dudu-Osun |
| Pattern | Plain |
| Size | 5 oz. |
| Features | Alcohol-Free |
| Type | African Black Soap |
| Color | Black |
| Body Area | Body |
| Ingredients | Pure Honey, |
| Item Weight | 5 oz |
| Brand | Dudu-Osun |
| Scent | All Natural |
| Skin Type | Oily Skin |